On January 25, 2012, The U.S. Department of Agriculture (USDA) released the new version of its Plant Hardiness Zone Map (PHZM), the first major update since 1990. Plant Hardiness Zones are based on the lowest temperatures that can be expected each year for a given location. These temperatures are referred to as average annual minimum temperatures, and they play a critical role in the ability of a plant to survive in a specific region.
This new version of the map is now divided into 13 different zones, each of which represents an area of winter hardiness for plants. Each zone represents an area where the average annual minimum temperature is within a 10°F range. Each of these zones is now further divided into 5°F sub-zones "A" and "B."
The zones range from Zone 1a, with an the average annual minimum temperature range of -60°F to -55°F, all the to Zone 13b, where the average annual minimum temperature ranges from 65°F to 70°F.
The new map uses data collected over the 30-year period 1976-2005, and after the addition of many new measurement stations and detailed reviews by horticulture experts of their specific geographic regions, many zone boundaries have shifted compared to the previous map.
* Find your specific Plant Hardiness Zone by clicking on the name of the desired state or territory, in the table below the US Map, for a detailed map of that state or territoy.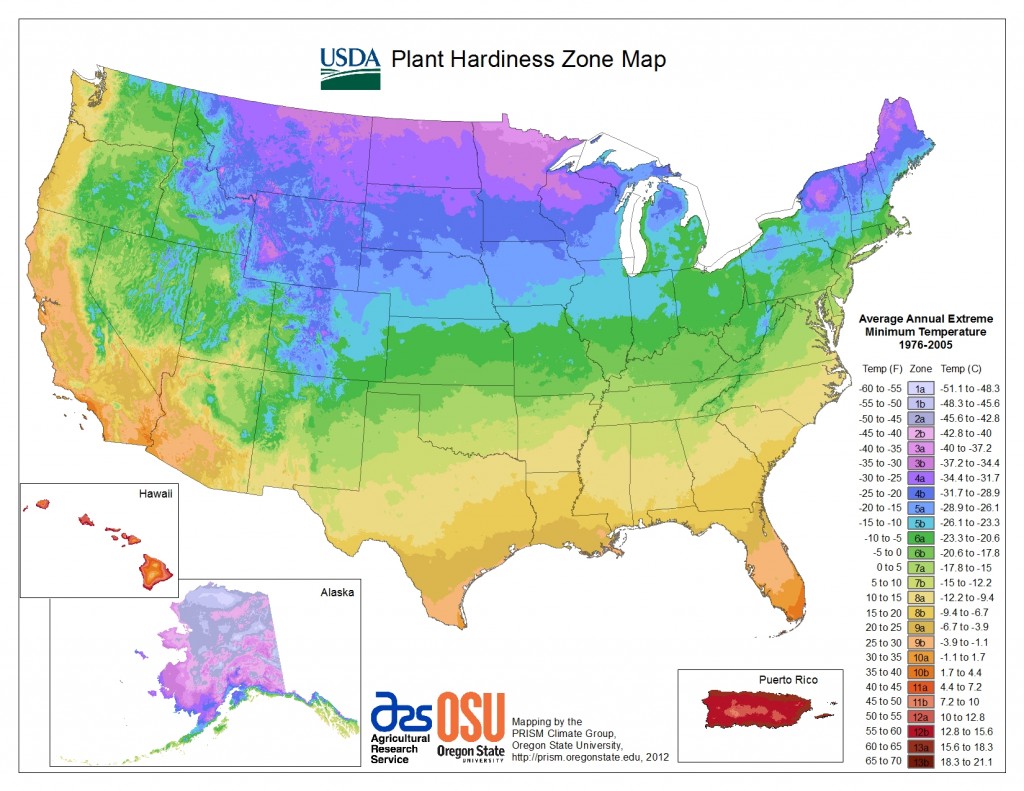 Detailed State Plant Hardiness Zone Maps

International Plant Hardiness Zone Maps
Australia
New Zealand
Canada
China
Europe
Japan
Other Factors to Consider
Although the recommended Plant Hardiness Zone for a given plant is an extremely valuable tool in determining whether that plant will grow and flourish in your area, the basic requirements of each type of plant must also be considered. These basic requirements are:
Day Length
Usually the most critical factor in regulating vegetative growth, flower initiation and development, and the induction of dormancy. Plants survive only when the day length promotes their growth and prepares them for the seasonal changes.
Amount of Sunlight
Most plants respond best to a certain amount of sunlight each day, Full Sun, Light Shade, Partial Shade, Full Shade, or Dense Shade. Be sure to check out our Sun or Shade tool for definitions. Cloudy, rainy days coupled with the shade provided by nearby plants and structures can significantly reduce the amount of sunlight available. Plants survive only where the amount is within a specified range. 
   
Temperature
Plants grow best within an optimum range of temperatures; and the range may be wide for some species, narrow for others. Plants survive only where temperatures allow them to metabolize.
Frost
Plants differ in ability to survive frost, their responses varying from immediate death to sustained performance.  The previous environmental and cultural conditions of plants can often shift, but not permanently alter, their tolerance to freezing. Plants survive only when they are adapted to subfreezing weather. Check out our Frost and Freeze Dates tool for city specific data.
Heat
The amount of heat that a plant can take varies widely from species to species. By tradition we group plants into sun, partial sun, and shade types and plant them according to their light and heat tolerances.
Rainfall
Gardeners need to know how much water a landscape plant requires in determining its usability in low maintenance landscapes. Rainfall gardening often greatly limits which species can be used successfully.  Gardeners also need to know how much and how often to water plants in high maintenance landscapes.
Soil pH
The ability of plant roots to take up water and nutrients depends on the pH (measure of acidity or alkalinity), presence of soluble and insoluble salts, and aeration of the growing medium. The successful culture of all plant species requires that they be grown in a medium within a definite pH range and with from 10 to 14 essential nutrients in appropriate balance. Although plants may tolerate some extraneous elements and compounds, every plant species and cultivar has well prescribed limits.